Welcome to the Viper Club of America!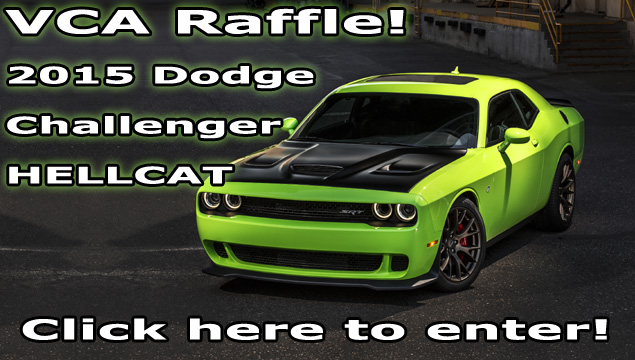 Prefix Performance Releases Targa Viper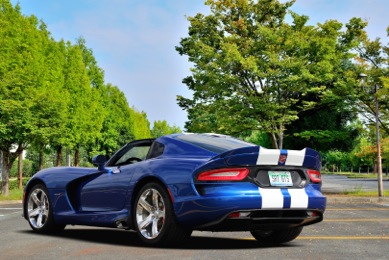 (Rochester Hills, MI) - Performance car enthusiasts and specifically... Dodge Viper owners speak passionately about what they are looking for in Viper branded vehicles, and Prefix has once again heard them loud and clear.
This week, Prefix released news that will they be proceeding with a targa conversion of the 5th Generation Dodge Viper. The conversion can be completed on any new or used Gen 5 Viper, directly through Prefix or any dealership, and provides owners with a body-colored, removable, carbon fiber roof panel that conveniently stores in the vehicle's trunk compartment for an open air experience. Current pricing for the targa conversion is $9,995.
As a tier 1 auto industry supplier, Rochester Hills, Michigan based Prefix Corporation has six Midwestern facilities including their 129,000 square foot state-of-the-art paint facility is where all 5th Generation Vipers are painted. Prefix is recognized throughout the auto and transportation industries as a premier source for prototypes and one-off models, as well as concept cars and even specialty vehicle creations for the film industry.
"We sincerely enjoy the friendships we have within the Viper community and appreciate hearing input directly from car owners and Viper Association members from around the globe." explained Prefix President, Eric Zeile. "After we released the Medusa convertible version of the Viper last summer, we received many inquiries as to whether we would create a targa; it was a natural evolution."
In addition to the targa and Medusa Vipers, the Prefix Performance team is also finalizing a series of performance upgrades for the Viper line up. Their 2014 acquisition of Arrow Racing Engines makes them uniquely qualified to design and create some seriously head-turning performance vehicles. A selection of modified Vipers will be on display at the Prefix Arrow Racing Grand Prix at the Pittsburgh International Race Complex on July 31st.
"We had already built an advanced painting facility for the Viper." Continued Zeile, "Our entire organization has a vested interest in keeping people excited about this amazing example of American muscle. We have the ability to engineer and develop these types of modifications correctly, so we will continue to listen to what owners are looking for."
Ben Keating on the Rolex 24 at Daytona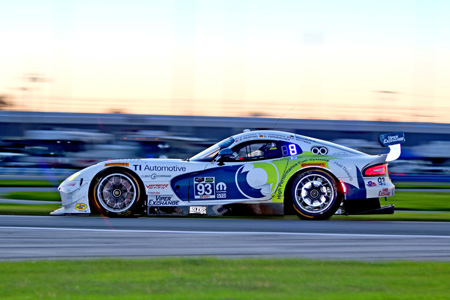 This was my 5th Rolex 24 at Daytona. Each year, I have put together the absolute best team and effort that I could into winning this race. However prior to this year, my best finishing position was 13th place. It just goes to show how difficult this race is to win.
For 2015, we knew that we had seriously upgraded our team. We learned from having the Vipers at Daytona in 2014, and throughout the year of competition we found small improvements that we knew would be good for Daytona. Not only that but we upgraded our driver line ups, and our engineers/strategists on the pit box, and all of the guys going over the wall working on the cars. And even in addition to this, we had a new sponsor partnership that help on both the technical operation of the fueling and AC systems, but also gave us enough extra funding to be able to run 2 cars instead of 1. The fact is that ANYTHING can happen in a 24 hour race, and running 2 cars literally doubled our chances of getting into Victory lane. In short, there was a totally different feeling going into Daytona in 2015. We were better prepared than ever before, and we knew it. Every aspect of the team was on top of their game and eager for competition.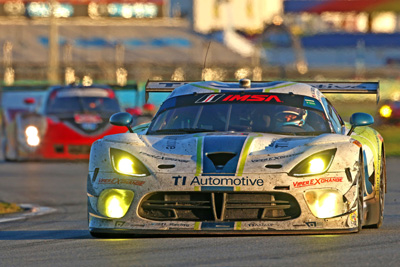 The 33 car qualified in 2nd position. The 93 car qualified 5th, but had a freak accident in qualifying where it lost a wheel going around the banking. Because of this, the 93 car started in the back. In fact, we were the very last car in line out of all 53 starting cars.
I started in the #93 car and throughout my 50 minute stint in the car, I worked my way from P19 in class to around P12. The start of a 24 hour race is always a little different, because the cars are all bunched up but you don't want to do anything to risk any damage to your car.
Both Vipers were strong and consistent throughout the first half of the race. There were even times when they ran P1 & P2 in class. Because of incredible engineering and set up, our cars were easy to drive and consistently quick. They weren't the fastest cars in the field in top speed, but were able to match lap times with the fast cars in the class. Everything was going perfectly.
Somewhere around 18 hours into the race, the 33 car stopped on track with no power. I think all of our hearts stopped at the same time. Turns out we had a slight mechanical issue, which the team quickly resolved and got us back out on track quickly. But at that time, the 33 had lost too many laps to really be considered to finish within the top 5. This left the 93 car as our only remaining hope.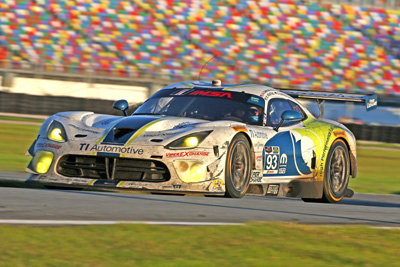 The last 6 hours were stressful to say the least. Many of the faster cars and teams began to experience issues, with our included. At this point of the race, it is easily as much about keeping your car going and operational as it is about being fast. I think we were all on the edge of seat with fingers crossed to see who would make it to the end.
At the end, there were actually only 2 cars on the lead lap. 19 cars started in the GTD class and only 2 were on the lead lap at the end. That is a decent example of the fallout and difficulty in this race.
Through ViperExchange.com, I have been the #1 volume Viper dealer in the world for the past several years. For me to win the Rolex 24 Hours at Daytona in a VIPER is a dream come true. In the TV interview at the end, I said "This was a win for the Viper Nation", because that is truly how I felt. It was not just about me, but about our car, our brand, our history, and our community.
The first 3 years I competed in the Rolex 24, I was driving a German automaker's car. It would have been awesome to have won the race in any of those years. BUT, to have won the race of my dreams in a VIPER is like nothing I could have imagined. I am honored to be an ambassador and representative of Viper.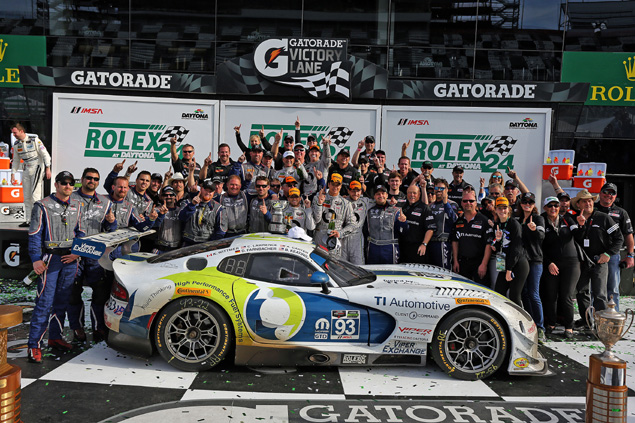 Vipers WIN at Daytona!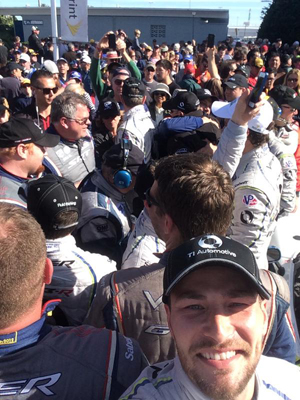 Congratulations to Team TI and ViperExchange for winning the GTD class at Daytona 24! Your incredible win without factory support is a wonderful testament to the Viper and Viper Nation.
The No. 93 Dodge Viper took the win the GT Daytona class at the Rolex 24 Hours of Daytona. In 24 hours the car completed 704 laps of the 3.5-mile circuit and finished 13th overall out of 53 cars that started the race. The No. 33 Viper finished in 9th position in the GT Daytona class and 23rd overall. Congratulations to the No. 93 driving team of Ben Keating, Dominik Farnbacher, Kuno Witter, Cameron Lawrence and Al Carter.
Keating said after the race: "It was great teamwork, this win is for the Viper nation, bringing it back to Daytona!"
"It was a great team success, I'm so proud of them ... We were very sad when the program was pulled and happy we could give the SRT a win," said Farnbacher, while Lawrence added: "This team is just amazing, we did our job perfectly and it's just unreal.
Vipers at Daytona!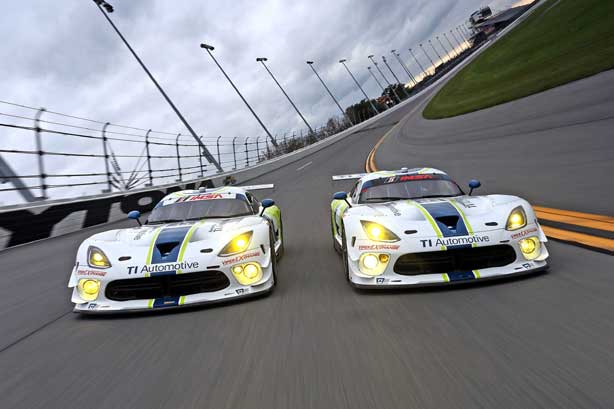 Please join The Viper Club of America in our support of Ben Keating and his team at Daytona 24 on January 24th and 25th. Both of the Viper Exchange cars did great at the Roar before the 24, the No. 33 and No. 93 TI Automotive/ViperExchange.com Dodge Viper GT3-Rs ranked at or near the top of the time sheets in each of the seven practice sessions run from Friday morning through early Sunday afternoon. That included an overall GTD-class Roar-best lap of 1:46.948 (119.834 mph) by experienced Viper driver Marc Goossens at the wheel of the No. 33 in Friday afternoon's session. Goossens won the GTLM-class pole for last year's Rolex 24 in a Viper GTS-R.

Good luck Ben and TI/ViperExchange!!!
Congratulations Viper and SRT!
SRT® Motorsports won the 2014 IMSA TUDOR United SportsCar Championship GTLM driver and team championships in the season-ending Petit Le Mans 10-hour endurance race at Road Atlanta on Saturday, October 4. Kuno Wittmer captured the IMSA TUDOR Championship GTLM driver championship with a third-place finish at Petit with co-drivers Marc Goossens and Ryan Hunter-Reay in the No. 91 Dodge Viper GTS-R. The team's sister No. 93 Dodge Viper GTS-R in turn captured team honors after being driven this year by Wittmer, as well as Jonathan Bomarito, Dominik Farnbacher and Rob Bell,...
[read more]
Registration for VOI 13-COTA
Registration is now open, and space is limited, so if you want to have the best time on Earth, with the best car on Earth, at the best track on Earth, sign up soon! This event is open to ALL Viper owners; a few notes: You will get more track time than any other VOI, at a real-life F1 Track, 3.4 miles long, 20 turns, with elevation changes On-track instruction, so if you've never been on a track before, you will get the confidence, and knowledge, you need to have a blast (and be safe) We have full-reign over COTA (for 2 days) and the drag strip...
[read more]
Congratulations to the GTS-R #93 car for their 2nd place finish at Sebring on March 15th
Drivers Rob Bell, Jonathan Bomarito, and Kuno Wittmer all led the race at various points , including Bomarito in the final hour of the race. The final caution of the race sent the 93 car to the pits, while the Porsche 912 pitted under green before the yellow flag flew, giving that team good enough track position for the win. The 91 car led the race twice, and finished in 7th place. Early in the second half, Hunter-Reay spun the 91 car in Turn 17 and ended up in the tire barrier. Ben Keating was driving the Viper Exchange GT3R #33 car just 35 minutes in to the race when ,...
[read more]
Latest threads in the forums!